Micah Parsons, Cowboys Become Latest Victims of Cheap Roughing the Passer Penalty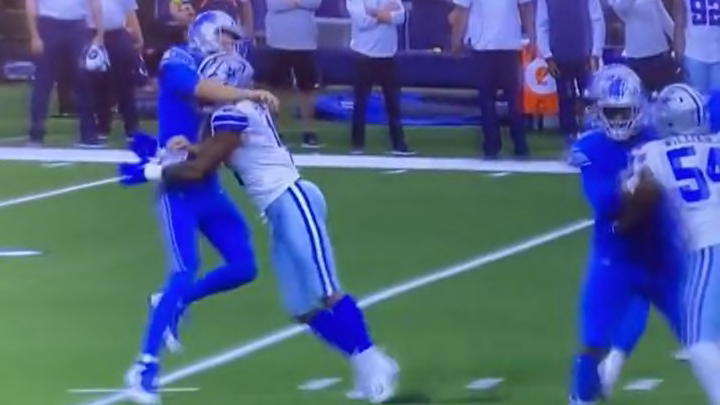 Micah Parsons /
The Dallas Cowboys were hosting the Detroit Lions this Sunday with Dak Prescott back under center. Both teams struggled to get any momentum going in the first half, but a Lions drive got some extra juice thanks to yet another questionable roughing the passer penalty.
This time, the alleged perpetrator was superstar defender Micah Parsons. He hit Jared Goff a half-second after the ball came out of the QB's hands, but got flagged anyway.
Yeah, it's not great. The NFL was unapologetic when asked about these sorts of penalties a few weeks ago, basically saying they'd rather have a few bad calls go viral than put quarterbacks in danger with late hits. Which is an unsurprising stance to take in light of the Tua Tagovailoa situation but will still lead to an avalanche of criticism.
Even if this one is, arguably, correct due to Parsons hitting Goff in the chin with his helmet. Not much else he can do but that'll be a flag every time. At least this one was relatively meaningless, unlike a few of the worse calls we've seen this year.