Micah Parsons, Deebo Samuel Take Shots At Each Other on Instagram After Cowboys Loss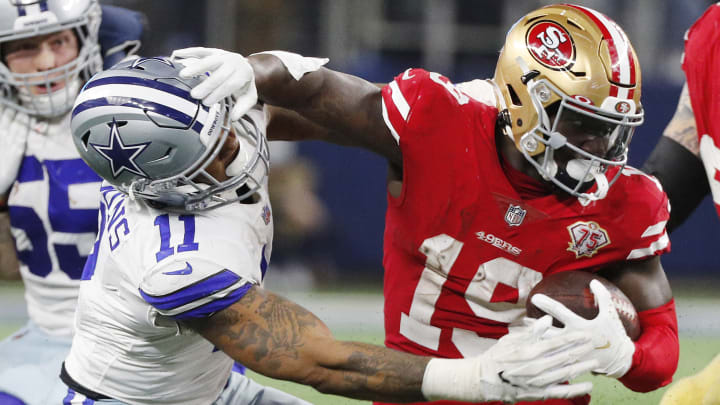 Micah Parsons and Deebo Samuel / Richard Rodriguez/GettyImages
The San Francisco 49ers took down the Dallas Cowboys last night in a low-scoring but entertaining affair. Deebo Samuel took an earned victory lap on Instagram after the game and called out Micah Parsons in the process. Parsons responded in kind in the comments.
Samuel's post included a quote from Parsons in which the All-Pro linebacker said the Niners were just the team he was hoping to face in the postseason. A thing nobody should be surprised he said considering San Francisco knocked Dallas out of the postseason last year, but anything and everything can and will be used as bulletin board material these days. It is the second picture below:
Parsons saw this and did not let it pass, commenting, "Lol what did you do today fam lol ?! But congrats on the win ! But don't put me in this weak ass slide."
Samuel recorded four catches for 45 yards and added four rushes for 11 yards. He did not score a touchdown. The Cowboys were locked into Samuel after he basically single-handedly ended their season last year.
It did not matter and the Niners wideout gets all the bragging rights in the world for at least another week. Nothing Parsons says can change that.