Pete Alonso Tackled During Mets-Cardinals Scuffle After Nolen Arenado Brushback Pitch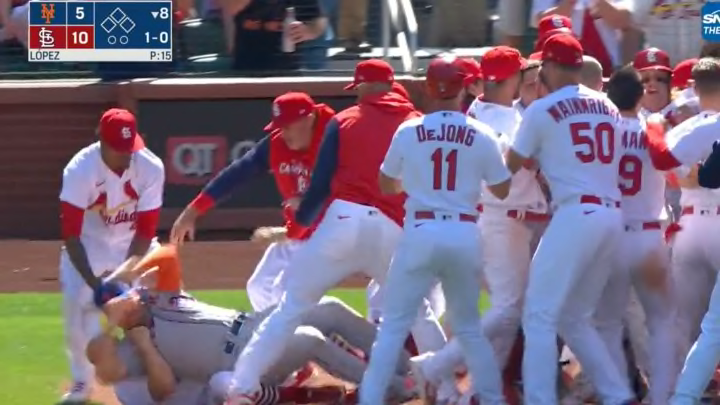 It's not quite a brawl. /
We had ourselves a get-together on the field on Wednesday afternoon as the New York Mets took on the St. Louis Cardinals. The Mets have been complaining all year that their players are getting hit by pitches a disproportionate amount of times compared to the rest of the league in the early goings of the season, but MLB didn't agree. Thus, it appears New York decided to take matters into their own hands; after multiple Mets got beaned by the Cardinals today, St. Louis slugger Nolen Arenado received a brushback pitch up by his chin in the eighth inning.
He did not take it well, and it led to the most serious benches-clearing incident of the young season. That isn't to say it was serious. We've seen worse. But there was a scuffle and Mets star Pete Alonso got tackled by a Cardinals coach in the scrum. The coach in question was apparently a guy named Stubby Clapp, which... I mean, come on.
This incident comes one day after no less than three Mets were hit by pitches against the Cardinals. It was sparked by J.D. Davis getting plunked in the ankle earlier in the eighth and was forced to leave the game as a result.
Baseball is officially back!