Latest NFL Leads
Ndamukong Suh Flagged For Taunting After Getting Kicked by Matthew Stafford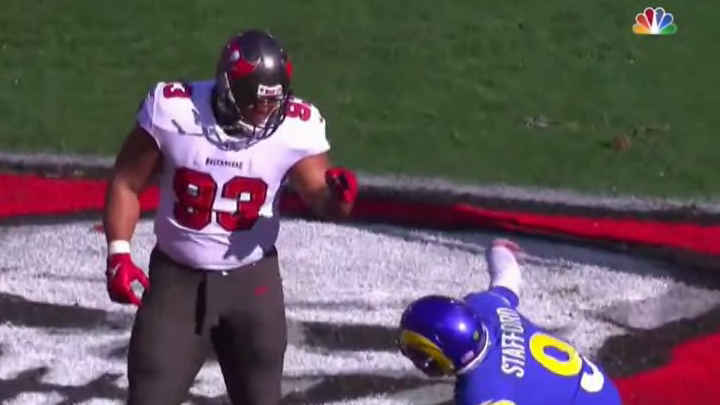 Ndamukong Suh and Matthew Stafford /
The Los Angeles Rams got off to a hot start in the first half of their NFC Divisional Round playoff game against the Buccaneers in Tampa Bay. One of their few negative plays came late in the first quarter, when Matthew Stafford was nearly sacked by former teammate Ndamukong Suh on a bootleg. The play ended up a huge positive for Los Angeles, however, because Suh was flagged for taunting.
It appears that Stafford gave Suh a little extra kick on the tackle. Suh immediately shot up and started yelling at Stafford. On the broadcast, Suh can be heard yelling at an official, "You see he kicked me?"
It's kind of hard to see Stafford kicking Suh but it does appear to have happened, even if it wasn't a full leg swing or anything. It is understandable why Suh got upset despite his own history with kicking and other questionable acts on the field of play.
Regardless of who was in the right, Suh's penalty was far more damaging than Stafford's kick. The 15 free yards given to the Rams led to the game's first touchdown.