Marshawn Lynch Drops F-Bomb on 'Monday Night Football' ManningCast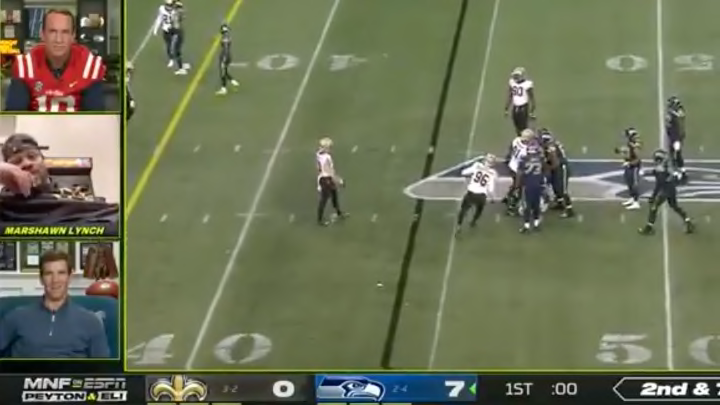 Monday Night Football ManningCast /
Marshawn Lynch joined Peyton and Eli Manning on tonight's edition of the ManningCast on Monday Night Football for the Seahawks-Saints matchup. It went exactly as you'd expect. Lynch told the Manning brothers he had taken three shots of Hennessy off the bat and they were off to the races. He was one of the more entertaining guests they've had, which is unsurprising.
Lynch did have a slip-up at the end of the first quarter right before he was going to go off-air. He dropped an F-bomb while reacting to referees whistling the last play of the quarter dead.
Peyton would later apologize to the audience.
Between this and Eli throwing up double birds a few weeks ago, the ManningCast has been quite a show. Someone might want to figure out a mute button, though. Just in case.