Marshawn Lynch Wore a Comically Huge Chain to the Home Run Derby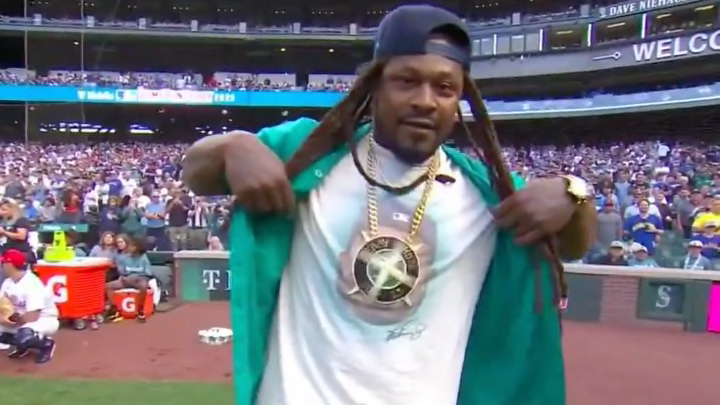 Marshawn Lynch /
Last night the Home Run Derby took place at T-Mobile Park in Seattle. It was an extremely fun Derby. While the timed format continues to aggravate viewers who want to savor each 400-foot home run hit, pretty much every slugger put on an incredible show. Vladimir Guerrero Jr. would emerge victorious after surviving a late surge from Randy Arozarena in the final round. It was great theater and a tremendous show of power.
Also, Marshawn Lynch was there and he showed up wearing a hilariously large chain with moving parts in honor of the Derby.
Everyone in Seattle still loves Lynch so it was a good idea to get him involved in some capacity. Delivering the big trophy whilst wearing that chain was the perfect task for the former running back. He had a great time down there, too, as he shoved a bunch of Derby baseballs into his pockets, signed autographs, took some merch, and then left.
The perfect Marshawn Lynch experience.