Marlins Flamethrower Edward Cabrera Throwing Serious Gas in First Start of 2022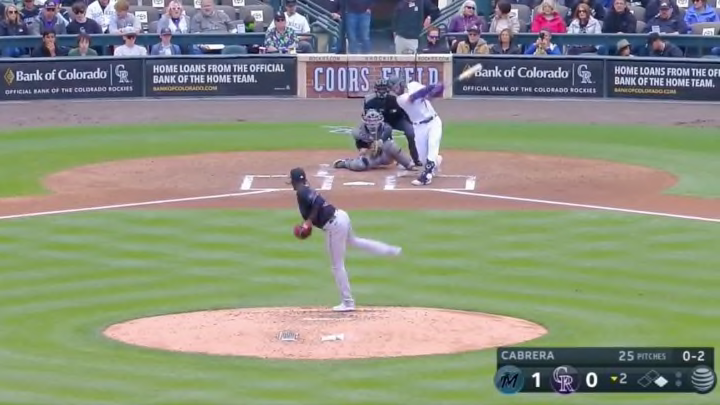 Edward Cabrera /
The Miami Marlins called up top prospect Edward Cabrera earlier this week, planning to give the right-hander his first start of 2022 in Colorado against the Rockies today. Obviously that's a tough draw. The Colorado air makes Coors Field a hitter's paradise like no other stadium in the league.
Cabrera, as it turns out, was entirely unfazed and took a unique angle to deal with how far the balls fly at Coors: simply never let anybody hit anything by blowing every pitch by the batter. Genius. He threw absolute gas in his eighth career MLB start, regularly hitting the upper-90s. Which isn't a huge deal at the big league level when you're throwing fastballs.
Cabrera was throwing changeups.
That... isn't how that's supposed to work! That should be illegal.
And yet.
Were I a Rockies hitter today, I'd probably plead a bum hamstring and let Cabrera smoke my teammates for the afternoon. A 96-mpg changeup is just too much, man. The talent in the league today is awesome.
Hopefully this is the last time Cabrera needs to get called up, because this guy has got the goods.