Marcellus Wiley Really Doesn't Like Joe Burrow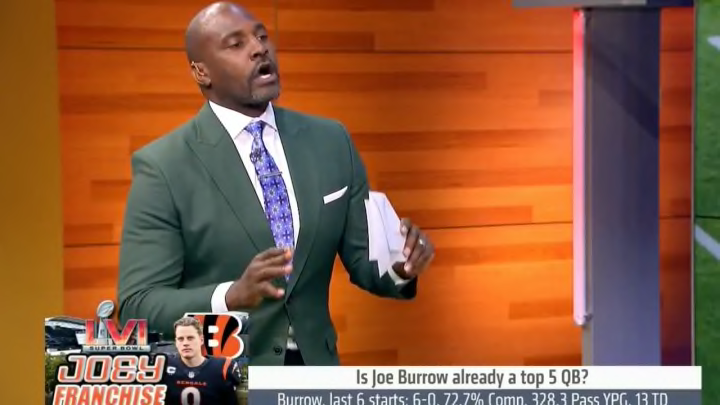 Joe Burrow and the Cincinnati Bengals are headed to the Super Bowl. One person who absolutely did not see this coming is FS1's Marcellus Wiley. The Speak For Yourself co-host has spent the last few weeks vehemently disparaging Burrow and his place in the NFL's QB hierarchy.
It's unclear if Wiley truly doesn't believe in Burrow or he just drew the short straw and has to take the Burrow-is-overrated position opposite Emmanuel Acho. Either way, he's all-in.
Like any good take, there are bits of reality mixed in to fool the ear. Things like Patrick Mahomes is "more in terms of greatness" as he said before the AFC Championship Game.
Wiley has also clung to the excellent work of the Bengals' defense as a way to downplay Burrow's postseason play. Since Derek Carr, Ryan Tannehill and Patrick Mahomes all had their final throws intercepted, who cares what Burrow did in those games?
Sure, he's made the Super Bowl, but that doesn't make him a top-five quarterback. Instead, that's reserved for guys like Tom Brady (retired), Justin Herbert (missed playoffs) and Matthew Stafford (made Super Bowl).
For fun, here are the top five qurterbacks Wiley wanted for the stretch run back in December. Patrick Mahomes and Matthew Stafford were nowhere to be seen, but Kyler Murray was?
Of course, Wiley's greatest anti-Burrow argument was his explaination of why the former LSU quarterback could never be the face of the NFL if his claim to the throne of Ohio is in question.
While Burrow's credentials will continue to be questioned, one thing we know for sure is that Wiley appears ready to think up new and more creative ways to explain why whatever the quarterback has done isn't that impressive. A Bengals' Super Bowl victory could prove to be incredible inspiration for such mental gymnastics.