Manny Machado Swears Repeatedly on MLB Network During Padres Celebration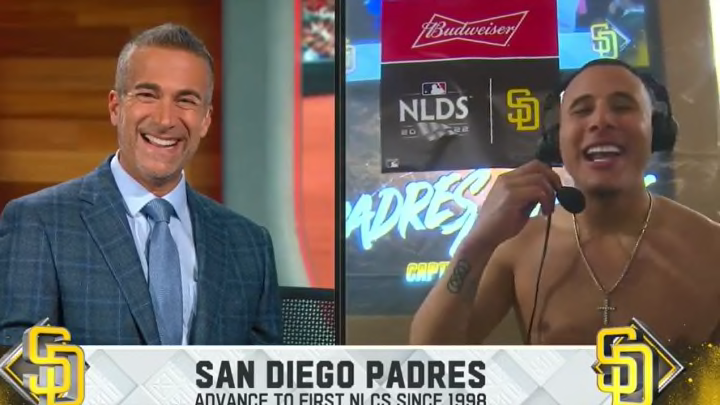 The San Diego Padres shocked Major League Baseball Saturday night when they eliminated the 111-win Los Angeles Dodgers from the postseason, topping them 3-1 in the National League Division Series. The unexpected victory catapults the Padres into the National League Championship Series for the first time in 24 years. Needless to say, the team was pumped after the victory. No one more so than unofficial team captain, Manny Machado.
A shirtless Machado joined MLB Network for a postgame interview in the middle of a celebration. As he swigged a Budweiser, the crew in the studio -- including Matt Vasgersian and David Ortiz, peppered him with questions. Machado was in a celebratory mood and immediately began swearing up a storm in an incredible endearing way.
Check this out:
That's at least three of the things you can't say on television in a very short clip. But, you know what, this is the danger you run trying to interview a guy when he's in the middle of spraying teammates with cheap domestic beer. You're getting raw emotion and you can tell how much this meant to Machado.
The Dodgers have dominated the Padres for years. And this season, they won every regular season series against the Friars. The Dodgers entered the postseason 14-5 against the Padres, and San Diego hadn't won the regular season series between the teams since 2010.
This series had to be cathartic for the entire Padres organization. Now they head to the NLCS with a "why not us" attitude after slaying the dragons to the north.