Manny Machado Ejected For Arguing Pitch Clock Violation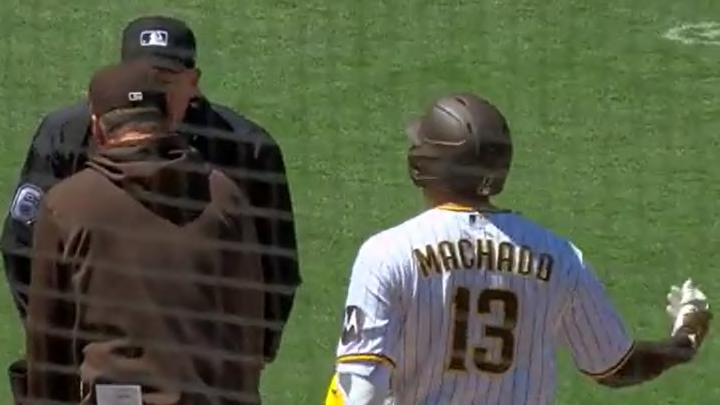 Manny Machado became the first batter in MLB history to be ejected after arguing a ruling on a pitch clock violation. Machado was booted in the bottom of the first inning of the San Diego Padres' matchup with the Arizona Diamondbacks. He and manager Bob Melvin couldn't believe it.
Machado faced a 3-2 count against Zac Gallen with two outs. His batting gloves came undone, so he asked for time to adjust them. Umpire Ron Kulpa did not grant him time, so Machado was not in the batter's box and "engaged" with the pitcher fast enough. Kulpa called an automatic strike and Machado argued that he tried to ask for time. Kulpa was pretty quick with the ejection.
Check it out:
And here's another angle:
Machado clearly attempts to call timeout and Kulpa refuses to grant it:
Batters are allowed one timeout per at-bat in the new format but, as in the past, the umpire has to grant it. That leaves this situation to be incredibly subjective. If the umpire just doesn't feel like granting the timeout it can cost the hitter a strike or, in this case, an out.