Malik Willis Uncorks Gorgeous Deep Balls at Pro Day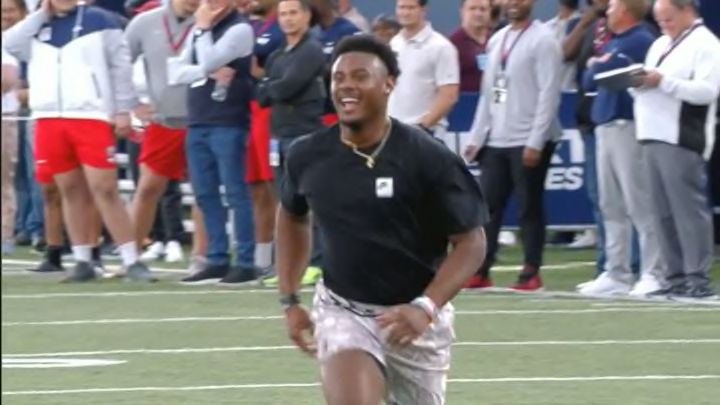 Liberty quarterback Malik Willis celebrates at his Pro Day /
Liberty quarterback Malik Willis is being put through the paces at his pro day on Tuesday and, not surprisingly, he looks fantastic. Perhaps the quarterback with the most upside in the 2022 NFL Draft class, Willis is putting on a show in front of the assembled scouts and media members. He's made some fantastic throws.
Willis hit receivers in stride on these back-to-back deep balls and made them look easy:
Perhaps his most impressive throw came after a bit of a scramble, where Willis showed off an ability to reset and put a deep ball on the money, then celebrated nailing it:
As always, we have to mention these quarterback pro days are highly-scripted and designed to show scouts exactly what the signal-caller and the team want them to see. Still, that was some impressive stuff.
Willis was a redshirt senior in 2021 in his third year at Liberty after spending two seasons at Auburn. The Atlanta native had a solid final college campaign, completing 61.1 percent of his passes for 2,857 yards, with 27 touchdowns and 12 interceptions. He also ran for 878 yards and 13 touchdowns on 197 rushes.
Willis measured in at 6-feet and 219 pounds at the combine, so he doesn't have ideal size for the position. But his athleticism and arm strength gives him tremendous upside and it wouldn't be a shock if he was the first quarterback off the board in April.