Mac Jones Had an Epic Flop During Loss to the Ravens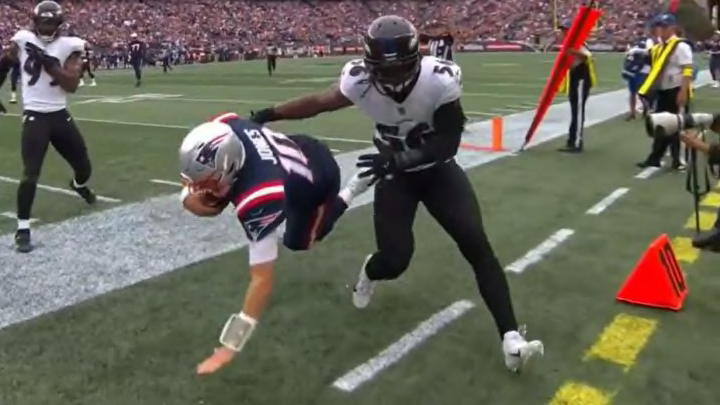 Mac Jones is having an up and down game against the Baltimore Ravens on Sunday. The second-year quarterback kept his New England Patriots in the game against the Baltimore Ravens, but also threw three interceptions -- one of which was downright terrible. He also busted out an all-time hilarious flop after being ridden out of bounds by a defender.
Early in the fourth quarter, the Patriots had the ball just outside the red zone. On a first and 10, Jones dropped back and decided to scramble. He picked up 15 yards and was ridden out of bounds by Ravens linebacker Josh Bynes. As he crossed the sideline, Jones went with a Chris Paul-like flop in an attempt to get a flag thrown.
Check this out:
And another look:
That's basically a Bobby Orr dive out of bounds. That's something you'd see at EuroBasket, not the NFL. Just hilariously bad.
Three plays later, Jones threw an interception in the end zone because karma exists. Jones also injured his left leg at the end of the game and couldn't put any weight on it.
The Ravens wound up winning 37-26 and the Patriots have now fallen to 1-2.