Mac Jones Got Away With a Dirty Play Against Bengals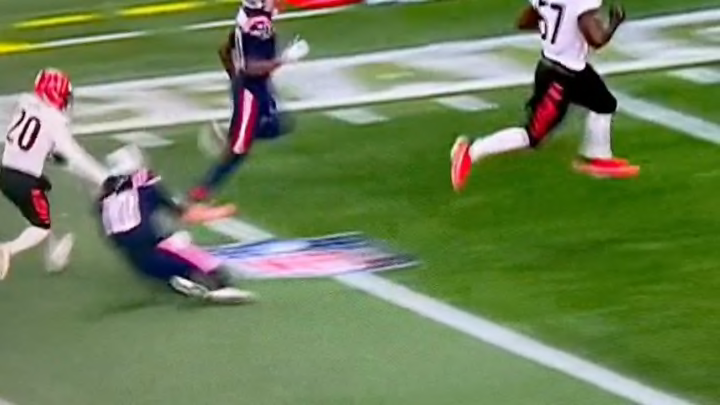 Bengals-Patriots /
Lost amidst the chaos of the second half from Christmas Eve's New England Patriots-Cincinnati Bengals game was another dirty play by Mac Jones. The second-year quarterback has already garnered a bit of a reputation for crossing the line with unnecessary plays when he has the chance and yesterday was just the latest example.
With six minutes left in the fourth quarter and the Pats in Bengals territory down by 10, Jones fumbled and Cincinnati ran it all the way back for a touchdown. The play was ruled an incompletion on the field and was later upheld by review, which was its own debacle. But keen-eyed observers noted Jones taking a ridiculous shot at Eli Apple's knees as linebacker Germaine Pratt ran into the end zone.
I mean... that's just indefensible even from the most ardent Patriots supporter. There is zero justification for something like that. It had no bearing on the play, unlike when Jones caught a bunch of heat for grabbing and twisting Brian Burns' ankle after a fumble last year. He apparently was just mad about what happened and took out his frustration with a dangerous play that could've easily hurt Apple.
A dirty play and one that should come with consequences.