Luka Doncic Could Only Shake His Head After Dillon Brooks Blew a Kiss to the Crowd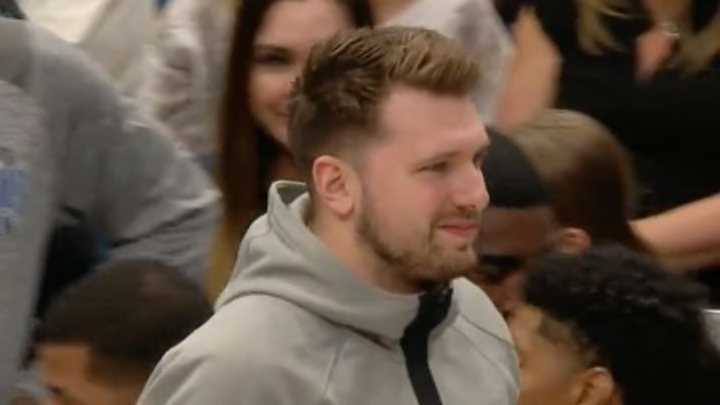 Luka Doncic /
The Memphis Grizzlies took care of business and defeated the Dallas Mavericks last night, 104-88. Both teams were without their superstars; Ja Morant recently left Memphis to undergo a counseling program in Florida, while Kyrie Irving and Luka Doncic were both forced to sit due to injury. This means it was Dillon Brooks time, and did he ever deliver, scoring 19 points on 19 shots.
Three of those points came late in the third quarter. Brooks swished a sidestep three to extend the Grizzlies' lead. He then celebrated by blowing an exaggerated kiss to the crowd. It neatly summarizes everything you love or hate about Dillon Brooks, depending on what side of the spectrum you fall on. But all Luka could do was shake his head.
The exasperation you can feel emanating from Luka is probably because that celebration is usually reserved for when the game is more confidently in hand and by players who are filling it up. The Grizzles were up 11 and Brooks was 7-of-18 from the floor at the time. And blowing a kiss to celebrate going up by double-digits on that Mavs team... well, it's safe to say that only Brooks would do that.
The broadcast team theorized that Brooks had found a pocket of Grizzlies fans in the upper rows of the arena and was blowing kisses to them, which would change things a little bit. But it wouldn't take away Luka's reaction, which you will probably see in memes when the playoffs begin.