Luka Doncic is Not Having a Great Time Out There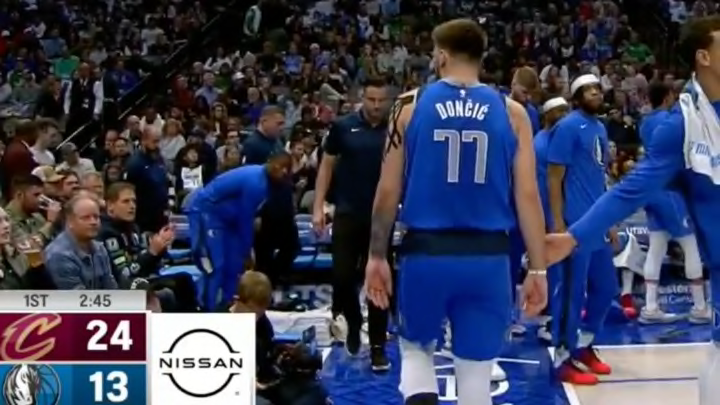 Luka Doncic /
Luka Doncic has put up some absolutely stupid statlines this year and is currently averaging 33 points, eight assists, and eight rebounds per game. Part of this is because he is already one of the five best basketball players in the world at the ripe age of 23 and there is nothing he can't do on the court. However, he's also putting up these numbers because the Dallas Mavericks have not put a good enough team around him and thus must almost entirely rely on his ability to create to win games.
This is a winning formula for very few players in NBA history. There is precedent, sure, but while such heliocentric teams can win many games it does not lead to championships. In the Mavs' case this season, the supporting cast is bad enough that it doesn't even lead to that many wins.
All this is to explain why Doncic might look as frustrated as he does in the below video from last night's Mavs-Cavs game, in which Doncic blows off a Dwight Powell high-five to glare at Mark Cuban.
Talk about an abrupt end to a video. Lordy.
Anyway, yeah, not great! This is merely a snapshot in the heat of the moment and all that, but it's a little early in the year for Doncic to be this mad. And things are not set to get better, either, after Maxi Kleber tore his hamstring.
For all of Doncic's talents he needs more help. The Mavs are not in a position to provide him any. A tough spot.