Logan Paul WrestleMania 38 Match Details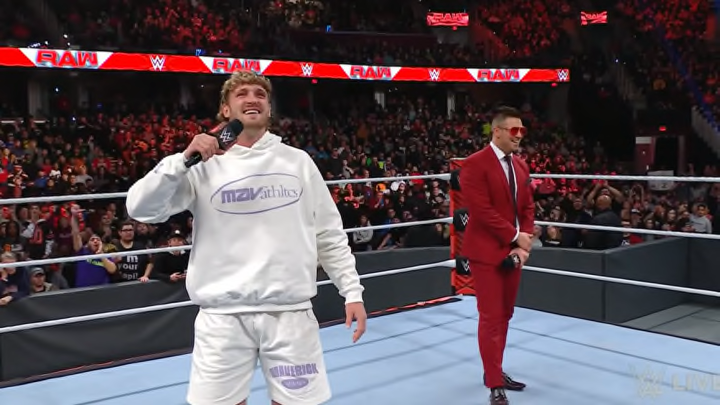 Logan Paul and The Miz on WWE Raw /
Logan Paul is returning to WrestleMania this year after an appearance at WrestleMania 37 in 2021. While the YouTube star was largely a bystander during last year's event, he'll actually be patriating in a match this time around.
Paul will be tag-teaming with The Miz against Rey Mysterio and Dominik Mysterio. The storyline for this match began at WWE Elimination Chamber in February. The Miz and Rey Mysterio were competing in a singles match to open the show, and Miz took a swing at Dominik, who was at ringside supporting his father. Dominik retaliated, helping Rey win the match.
The Mysterios and The Miz were set on a collision course for WrestleMania after that, and Miz needed a tag team partner. On the February 21 edition of "Miz TV" he revealed who he'd be teaming up with.
Miz and Paul are both Ohio natives so that's been the connection WWE has been pushing.
At WrestleMania 37, Paul was in Sami Zayn's corner as the latter faced off with Kevin Owens in a singles match. While he was supposed to be a bystander, Paul wound up getting involved. After Zayn lost, Paul turned on him and shoved him to the ground. He tried to celebrate with Owens but wound up taking a stunner from KO:
Paul is a perfect heel for WWE to lean into. He's widely disliked but everything he does gets a ton of eyeballs and he comes with a built-in audience. It's a smart move for the company to keep him involved.