Live Local Boston Blizzard Interview Touches on Tom Brady Retiring, Dunkin' Donuts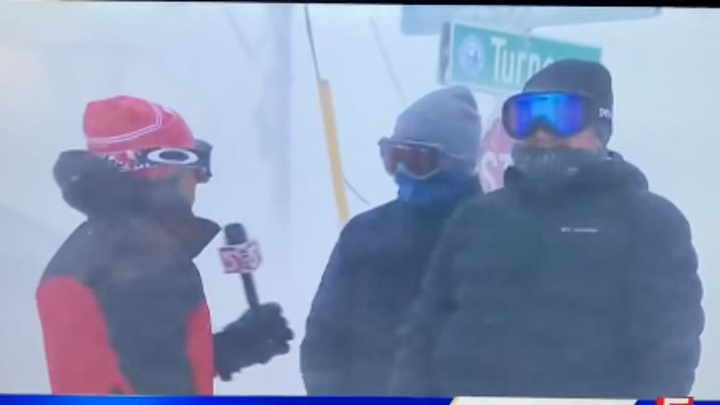 Blizzard interview. /
A blizzard ripped through the northeast this weekend, focusing much of its strongest gaze on the costal areas in Eastern New York and Massachusetts. Boston was among those cities in the eye of the storm, with two feet and more of snow dumping down in and around the area.
Of course, that couldn't stop locals and local news stations from braving the elements in the hopes of warm coffee and heart-warming news segments. Neither were accomplished based on the report you're about to watch, but it's the effort that counts.
In the midst of the storm, the Storm Team 5 crew (an area ABC affiliate) were able to wrangle two locals for a quick live report. As heavy snow whipped in their face, they touched on the most important topics of the day: Tom Brady retiring and Dunkin' Donuts. What follows is a masterpiece.
Simply outstanding! From the Gronk retirement speculation to the obvious answer to whether any Dunkin' Donuts was open amidst a massive snowstorm ("No"), this is what live, local news reports are all about. Slightly awkward, unhelpful, always entertaining. Throw in a couple of Boston boys in the snow and you truly get a masterpiece like this.