Tony Romo Said the Detroit Lions Could Win the Super Bowl. About Damn Time.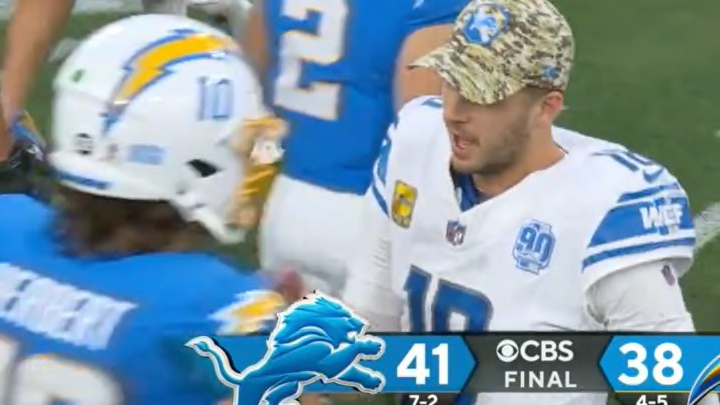 Dan Campbell probably had to check a few things at LAX last night because they were too heavy to carry on, but that's a small inconvenience after already flying across the country for another marquee showcase test against the Los Angeles Chargers. A test the Detroit Lions handled very well thanks to a balanced offensive onslaught and fearless coaching decisions. Campbell and his counterpart Brandon Staley kept going for it on fourth down and getting it on fourth down. Jared Goff and Justin Herbert kept trading chunk plays. Keenan Allen and the one-two punch of David Montgomery and Jahmyr Gibbs kept trading trips to the end zone. It was an instance classic in front of CBS' top crew of Tony Romo and Jim Nantz that came down Riley Patterson booting a game-winning field goal as time expired after a spirited bout of high-stakes keep away.
As the players met in the middle to shake hands, Romo shared his big takeaway.
"Detroit showing you they're here to stay for the rest of the year. This is a formidable team who can win the Super Bowl."
Apparently this was something NFL fans had a mixed reaction to. If you think about it, general NFL fans have a mixed reaction to a lot of things.
I had one completely uniform reaction to it and it was the same as when Stifler sees that Frank the Tank has been clipped by a tranquilizer dart in Old School. Because it's awesome that this is a thought you're hearing more and more. The Detroit Lions winning the Super Bowl does not feel like the type of crazed thought that would get a person shunned from polite society. But those paying attention already knew this. Obviously Romo seeing it up close in person for the first time hammered some of those feelings home.
A lot of Lions fans in my life are spiking the football here as if a closing thought from a broadcaster means a hell of a lot — and it's similar to what happened when Mike Tirico had the audacity to say the opening night victory over Kansas City came with an asterisk. That's probably just human nature and every fanbase has rabbit ears for the slightest sign of respect or, more importantly, disrespect.
But I would posit that every person who bleeds Honolulu blue and silver should have already known this little fact before Romo said anything. For nine games they've watched a team exceed expectations. They've seen arguably the league's best running tandem take over games. They've seen Goff utilize his receiving corps to perfection thanks to a brilliant offensive strategy. They've seen the defense be good enough 70 percent of the time to provide complementary football.
And most importantly they've seen that Campbell is a coach who can win the Super Bowl. His decision to go on 4th-and-2 in the final minutes to make sure the Chargers would never touch the ball again was one of the best and boldest strategic decisions in the organization's history. Everything about this feels special.
Now, for the grain of salt. Being capable of winning it all does not mean Detroit should start planning for a victory parade. There are 8-10 teams in the NFL who could realistically lift the Lombardi. All but one is going to go home disappointed. There's a long road ahead but finally, the Motor City has a vehicle capable of navigating every twist and turn.