LeSean McCoy Says Bill Belichick Would Have Been a Regular Coach Without Tom Brady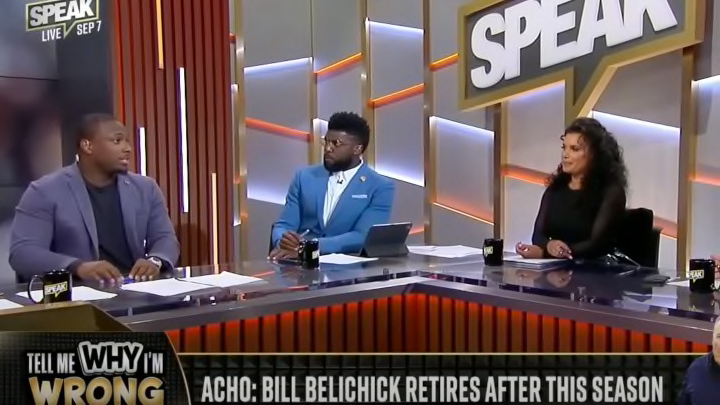 LeSean McCoy is one of the new regulars on Speak, FS1's rebranded version of Speak For Yourself, alongside Joy Taylor and Emmanuel Acho. On Wednesday they discussed the possibility of Bill Belichick retiring after this season and McCoy unleashed a hot take not heard since last season or the season before.
"I won't call him overrated because he's a great coach, but he's not what the world thinks he is. Listen, every head coach in the AFC will say thi thing I'm saying right now. Without Tom Brady he's be a regular coach. A regular coach. Good coach, but not great."
McCoy came prepared with Bill Belichick's record with and without Brady, which skews heavily in favor of the two decades Belichick and Brady spent together winning football games. If only McCoy didn't undercut his own argument by calling Belichick both "good" and "great" in the same minute he was trying to say he's a regular coach.
As for Acho's prediction that Belichick will retire, well, he's 70-years old. He's the second oldest coach in the NFL behind Pete Carroll. George Hallas and Marv Levy coached until they were 72. Romeo Crenel was head coach for a few games last year at 73. Belichick and Carroll are going to stop coaching at some point in the not so distant future. It will have nothing to do with how good they were at their jobs.