Tua Tagovailoa Ends Long National Nightmare For Lefthanded Quarterbacks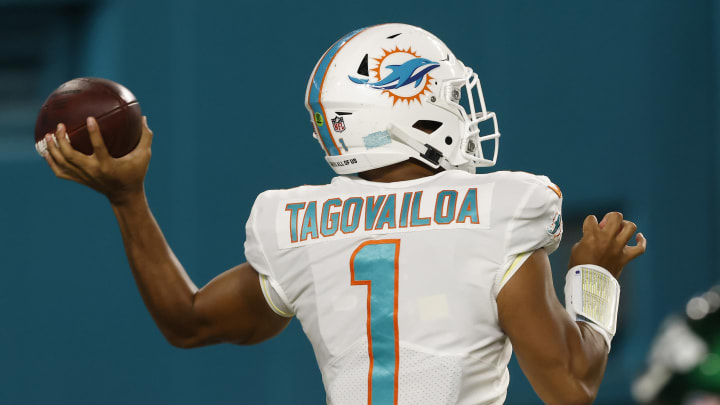 Michael Reaves/Getty Images
Tua Tagovailoa will start for the Miami Dolphins. In doing so, he will serve as much-needed representation for an under-appreciated group: High-level quarterbacks who happen to throw with their left hand. Let's hear it for the lefities! The long nightmare is over!
Tagovailoa will be the first southpaw to start an NFL game since Kellen Moore played mop-up for the Dallas Cowboys in Week 17 of 2015. That's so long ago. Ryan Fitzpatrick, the man Tua is replacing, wasn't old enough to be president back then. *Other things* have happened over the past four-plus years.
The lefty lineage is strong but shared with a select group. Tim Tebow. Pat White. Tyler Palko. Chris Simms. Michael Vick. Mark Brunell. Scott Mitchell. Steve Young. Boomer Esiason. Frankie Albert back in 1942. There are some great and also a few not-so-memorable names on that list. Tagovailoa could be one of the best to ever do it from that side of the pocket.
Not only are lefthanders people, too, they simply look so much cooler than righties. No one denies this! Sure, their ball may spin a different direction like any place south of the Equator and offenses tend to be designed for the common righty. But these are just, like, details, man. Explore the artistic aspect of the equation, dude.
Let us all lift up a glass with our offhand in honor of our craft and unconventional brethren who have finally seen their ship come in.