LeBron James Wore a Shirt With His Own Sports Illustrated Cover On It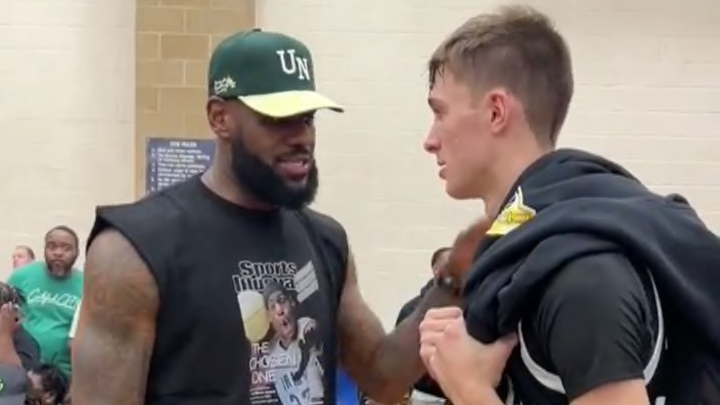 LeBron James and Cooper Flagg /
LeBron James is normally quiet this time of year as he enjoys his offseason. The most waves would come from potential Summer League appearances. Otherwise he's just hanging out and tweeting about things like Teen Wolf. This year was different, though, because LeBron was coaching up his son Bryce's team at the Peach Jam Tournament in the Nike EYBL circuit.
As you would expect the cameras followed LeBron more closely than it did any of the prospects competing on the floor. One high schooler, however, caught everyone's eye. His name is Cooper Flagg and he is from Maine, which is unique in of itself. Flagg played tremendously throughout the tournament and as a reward got a one-on-one chat with The King himself.
The video of this interaction showed LeBron wearing a t-shirt with his famous Chosen One Sports Illustrated cover, which is hilarious.
The Kid From Akron does love his own story, which is fair. It's the stuff of legends. But it's also very LeBron to wear his own face on a shirt.
Content machine. As always.