Is LeBron James Paying For Twitter Blue?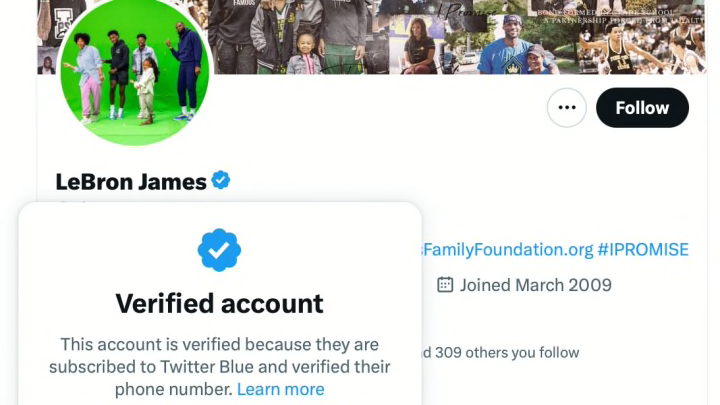 Elon Musk blew up a rocket and the verification system on his social media platform today, removing the legacy blue checkmarks from anyone unwilling to pay $8 a month for verification. It's now the wild west out there, which was another place that did not have any blue checks. Everyone was left looking around, wondering who was going to actually start paying for this thing and surprisingly, one of the remaining ticks was found on the account of LeBron James, who tweeted on March 31 that he would not pay.
This proclamation from King James came as no surprise to those who cover him given he famously still used the free version of Pandora despite being super rich for many years. That's why it's doubly shocking to see he still has a check. The question is, is he really paying?
We feel like we kind of remember seeing or hearing somewhere that some of the more popular users would keep their checks even if they didn't pay up, but maybe that was all a dream. What we do know is that LeBron had one of the accounts that was amplified by Twitter. Also on that list was Mr. Beast, who also still has a check, and Matt Yglesias, who does not currently have a check.
So your guess is as good as ours. Someone should ask him about it the next time he addresses the media. He'd probably rather talk about this than Dillon Brooks.
UPDATE: Stephen King, who also clearly said he would not pay for Twitter, is still verified too.
So perhaps some accounts just keep the check. Please be patient while we sort this all out.