LaMelo Ball Too Focused on Hall of Fame to Get Excited About First NBA All-Star Game Selection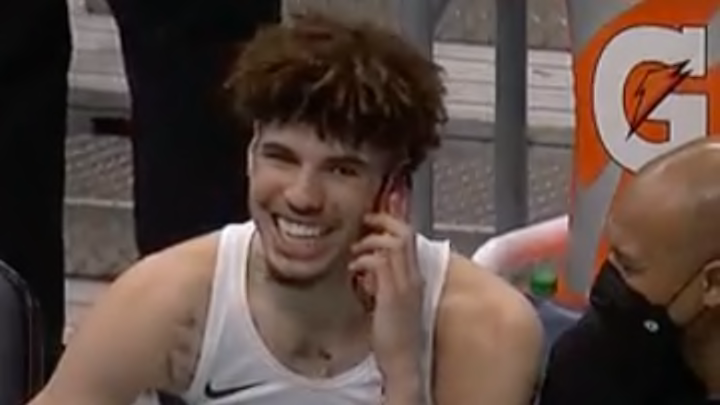 LaMelo Ball was selected as an injury replacement for the 2022 NBA All-Star Game. Adam Silver picked Ball and the 20-year-old found out on Monday ahead of the Hornets' loss to the Raptors. While a video circulated online suggesting Ball was all smiles on the sideline ahead of the game, possibly learning of his selection on the phone, that doesn't appear to be accurate. In fact, it's unclear whether Ball is even excited about the honor at all.
During the Bally pregame coverage, Hornets sideline reporter Ashley ShahAhmadi interviewed Ball. Asked when he found out, Ball revealed that someone told him that afternoon when he got up from a nap.
Asked if the All-Star g\Game was a goal, LaMelo gave one of his usual humble answers saying, it could be a goal, but he's more concerned with winning an "MVP, championship, stuff like that. He also threw Hall of Fame on the end.
It is hilarious that the same Ball who drives a sherbert - or yellow - Lambo around Charlotte and famously said, "what the f-ck is school" in a GQ profile, refuses to say being the fourth-youngest All-Star is kind of cool. In fact, he acts like it's kind of boring. Luckily, his game isn't and he was born to play point guard in an NBA All-Star Game. If he wants to let his play speak for itself, this is the perfect opportunity.