Darvin Ham Should Considering Playing Lakers Fan Courtside in Denver Waring a Full Uniform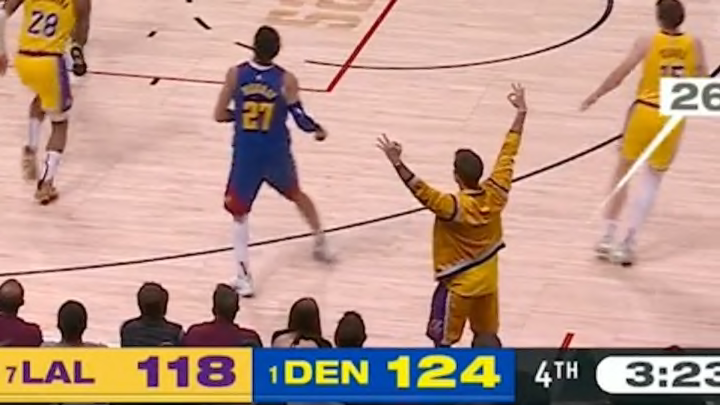 The Denver Nuggets beat the Los Angeles Lakers in Game 1 of the Western Conference Finals on Tuesday night, 132-126. A historic performance by Nikola Jokic nearly put the game away early in the evening, but the Lakers fought back and had a chance to tie the game in the final minutes. And no one was happier about that comeback than the Lakers fan (sometimes) seated courtside who was wearing a full jersey and warmup jacket.
The man stuck out like a sore thumb that had been smashed with a purple and gold hammer. He was among a sea of Nuggets fan in his courtside seat and he was as in to the game as anyone on the actual Lakers bench. Should Darvin Ham have turned to his bench in the second half and not found the answer he was looking for, he could have easily just looked across the court and found it.
We have no idea who this brave soul is and we don't need to know. His only crime was cheering for the away team and there are no accounts that he bothered anyone aside from a viewer or two who couldn't stop being distracted by the man dressed like Ted Shackleford who kept jumping onto their television screen with every big play by the Lakers.
We'll have to wait and see if he's back on Thursday, again ready in case coach needs him.