Kyle Shanahan Not Having Fun Right Now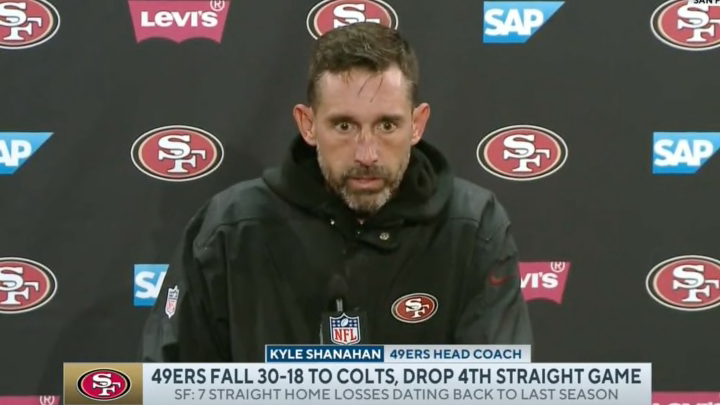 The Indianapolis Colts beat the San Francisco 49ers on Sunday night, 30-18. Jimmy Garoppolo was not great as he threw two interceptions in the rain. With the loss the 49ers are now tied with the Seattle Seahawks for last place in the NFC West with a 2-4 record. It was a rough night for everyone, but Niners coach Kyle Shanahan looked and sounded absolutely frazzled after the game.
As for Jimmy G's future, well, Shanahan think so, but who knows really?
Trey Lance missed the game this week with a knee injury after he replaced Jimmy G last week when Garappolo was injured. Neither guy has lit the world on fire this season and now the 49ers are firmly in If You Have Two Quarterbacks You Have No Quarterbacks land. Shanahan is stuck between a veteran rock and a highly touted rookie hard place.
All he can really hope for right now is to get a full week of practice with either of them. The NFC West is out of reach a third of the way through the season. That probably shouldn't be surprising after they went 6-10 last year, but here we are wondering what's wrong with Shanahan and the Niners.