Kyle Brandt Works Blue on 'Good Morning Football'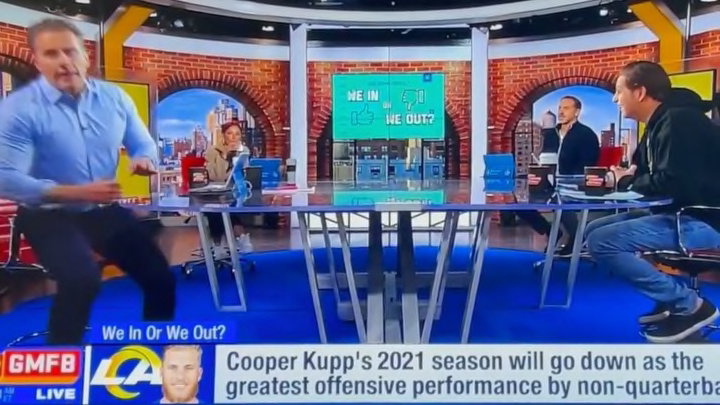 Kyle Brandt immediately after swearing on live television /
The Good Morning Football crew continued to dissect the results of Super Bowl LVI on Tuesday, and at one point dug into the remarkable season Cooper Kupp put forth and how it will be viewed as time goes on. Kay Adams made the point that Kupp's numbers were not only absurd, he came up big when it mattered most, recording 99 all-purpose yards, two touchdowns, and drawing three penalty flags during the Super Bowl.
Kyle Brandt went to chime in and accidentally dropped an F-bomb. Since GMFB is live, there were no take-backsies.
Brandt was absolutely astonished at his own slip-up, taking a self-prescribed penalty lap before sitting back down and apologizing for the mistake.
This is a good lesson that nobody is perfect. Brandt has an expansive television resume. He is very accustomed to the bright lights of live TV. Yet even he let a curse word out, so engrossed he was in the topic at hand. It was well-handled by everyone in the studio, though, and things kept moving smoothly after he apologized.
These things happen.