Kyle Brandt: Enough With Nationally Televised Packers-Bears Games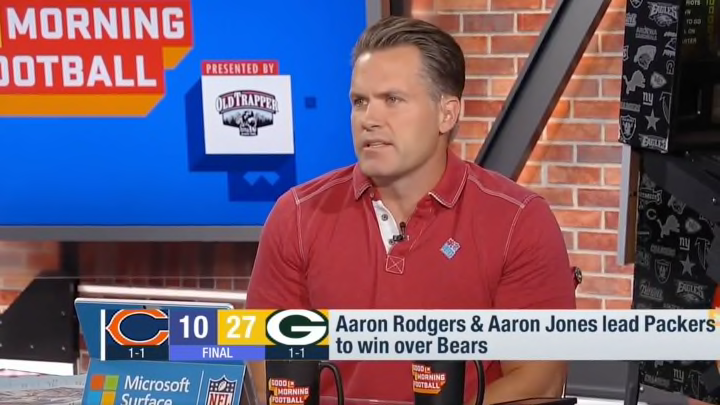 Man Who Just Wants Good Football /
Last night, Aaron Rodgers did it again. He and the Green Bay Packers dominated the Chicago Bears from start to finish on Sunday Night Football. The Bears cannot yet claim ownership of the team back from Rodgers, sadly. And we were all subject to another matchup in football's most lopsided rivalry; the NFL is addicted to throwing these games on national TV when there's no football alternative.
It's obvious why-- the ratings are always good. Two historic franchises with significant fanbases that tune in no matter how the season is going. The fact that the ratings have remained good despite several years' worth of noncompetitive matchups is rather impressive. But neutral fans got tired of Packers-Bears a while ago, and Kyle Brandt gave voice to their frustrations on Good Morning Football today.
Speaking with aboslute conviction, Brandt puts to words what many viewers were undoubtedly thinking last night. And he brought stats to the table! Stats that really help illustrate his point because I certainly didn't expect both Rodgers and Brett Favre to boast career averages of beating the Bears by more than 10 points every time they meet.
The NFL is in no rush to trade Packers-Bears for Jets-Jaguars but at some point the constant blowouts have to impact the product, right? Just make them play on Thanksgiving where everyone is watching literally no matter what. Then the league and the fans are happy.