Kliff Kingsbury And Josh Norman Both Flagged For Trash Talking With Each Other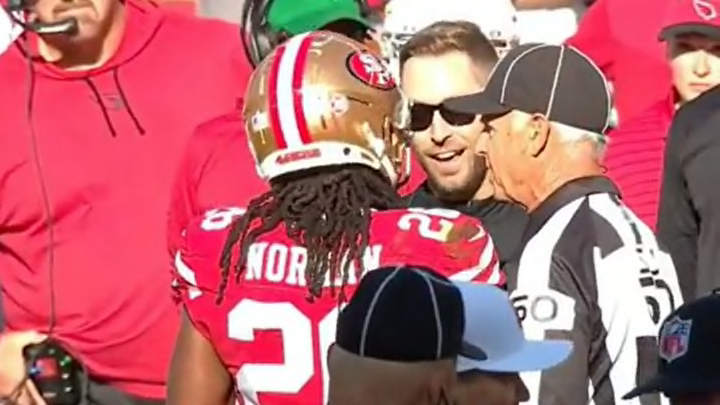 Kliff Kingsbury and Josh Norman trash talk with each other. /
The Arizona Cardinals are beating up the San Francisco 49ers in Week 9, despite not having Kyler Murray or DeAndre Hopkins. As it was clear the 49ers weren't offering much resistance in the first half, things got a bit chippy. At one point Cardinals head coach Kliff Kingsbury and 49ers corner Josh Norman were both flagged for unsportsmanlike conduct after they were trash talking with each other.
Check this out:
I'm not sure I've ever seen a coach and player both get flagged for unsportsmanlike conduct on the same play. Norman technically got a taunting penalty but, same difference.
Norman and the 49ers got the worst of those penalties, as it would have been fourth and 20 from San Francisco's 21-yard line. Norman's penalty was an automatic first down, enforced as half the distance to the goal. Then Kingsbury's was enforced, making it first and 24 at San Francisco's 25-yard line. While it hurt the Cardinals more yardage-wise, it gave them a new set of downs.