Kings Still Lost to Warriors Despite Fan Flashing Stack of Hundred Dollar Bills on Sideline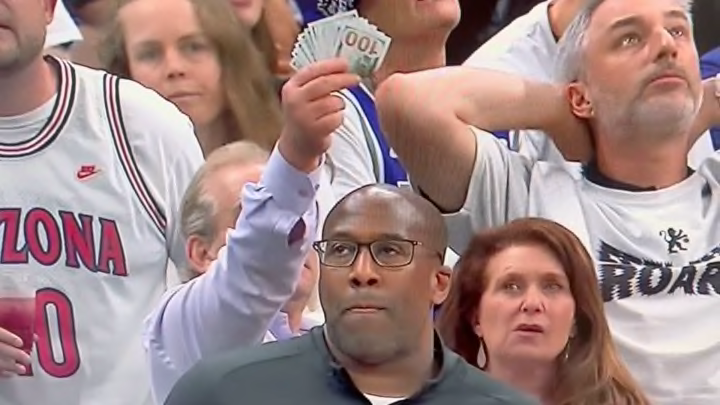 Unclear what he was trying to accomplish but it didn't work /
On Sunday evening the Sacramento Kings fell to the Golden State Warriors in Game 7. The upstart Kings were the most fun story of the playoffs after they broke their 16-year postseason drought but could not get over the Warriors hump. The final contest was not as close as neutral fans hoped it would be but the highest-rated first-round series still delivered a classic thanks to Stephen Curry proving himself inevitable once more and dropping a cool 50 points on the Kings' home floor.
It was disappointing to see the Kings bow out despite the best effort of everybody in the arena that day, including a courtside fan who took it upon himself to flash a stack of hundreds while the camera was zoomed in on Mike Brown.
Why would he do this? It is unclear, although the obvious guess is that he was jokingly (?) offering to pay off the referees. If so it was a misguided attempt to help the Kings because no amount of calls were going to prevent Curry from hitting his three-pointers.
But that was the energy in Sacramento throughout the team's brief postseason run. Everybody chipping in to help. Maybe next year, guy with a bunch of hundred dollar bills.