Keyshawn Johnson Compares LeBron James to Aaron Rodgers After Warriors Quote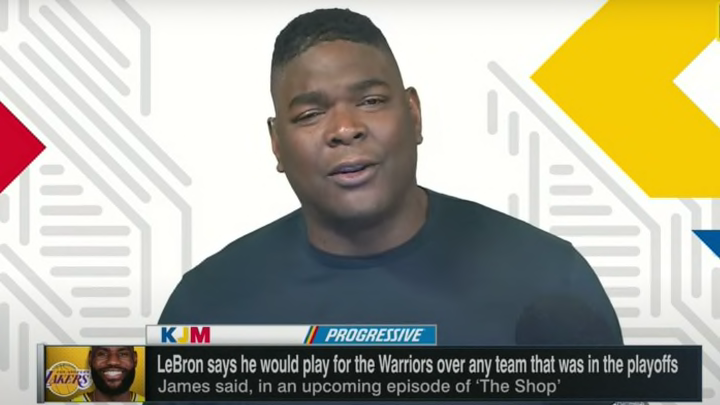 Keyshawn Johnson /
LeBron James re-entered the zeitgeist yesterday when HBO released a trailer for the newest episode of The Shop and LeBron was asked who he'd like to play for out of the remaining teams in the NBA playoffs. It was not a particularly hard choice given there are only two of those teams left and one of them is the fiercest rival of the Los Angeles Lakers, so LeBron said he'd love to play for the Golden State Warriors.
It was an innocuous comment in an entirely theoretical discussion but since LeBron James said it people started talking. It led to a conversation on Keyshawn, JWill, & Max this morning in which Keyshawn Johnson compared LeBron to Aaron Rodgers because he felt the comment was simply a way for the Lakers star to turn the conversation towards him and his brand, similar to how Rodgers tends to speak out when the spotlight is off of him because superstars have to stay relevant.
Things got a bit existential there. Talking about how talking about LeBron prevents the show from talking about the NBA Finals. And it's also a funny thing to say because nobody is making these guys talk about LeBron talk about the Warriors instead of discussing the actual basketball still being played.
Seeing LeBron James and Aaron Rodgers' name in the same sentence is amusing. I suppose there's a common thread between the two but Rodgers' method of garnering attention (if that is his sole goal) is... a bit different than what LeBron likes to do.
But just superstar things, right?