Kevin McCarthy Had a Good Laugh About George Santos' Reelection Campaign on 'FOX & Friends'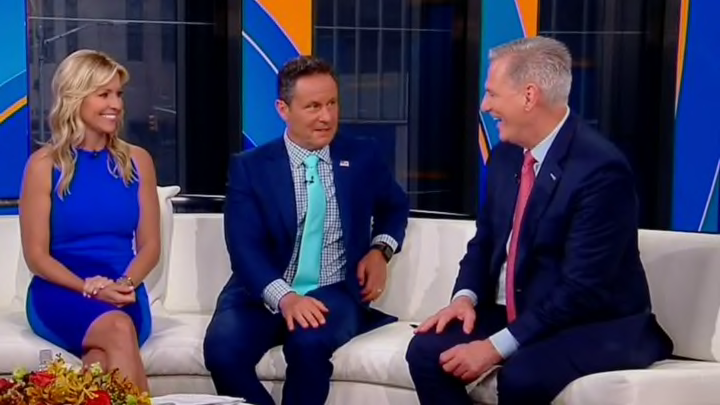 Kevin McCarthy, the Speaker of the House, who works in Washington, D.C. and respresents California's 20th congressional district, was in New York City on Monday morning to appear in-studio on FOX & Friends. McCarthy was there to discuss the Biden family and various other political talking points. Near the end of the interview Brian Kilmeade asked McCarthy if he was part of George Santos' reelection campaign. This illcited a hearty laugh from McCarthy.
That's a rather definiitive statement about whether or not Santos should run again from one of the top names in the Republican party. Not just the "he shouldn't run," part, but mostly the laugh. When was the last time you heard Kevin McCarthy laugh that hard? It just goes to show how strong Brian Kilmeade's comedy chops are.
Santos was charged with more than a dozen counts of wire fraud, money laundering and breaking various other campaign finance laws back in May. McCarthy has since stopped an attempt by Democrats to expel Santos from Congress, even though during his initial campaign, one of Santos' staffers impersonated McCarthy's chief of staff to help raise money. Every vote counts though so Santos will serve out the rest of his term and he announced his bid for reelection in April.