Stanford Star Cameron Brink Towers Over Kevin Hart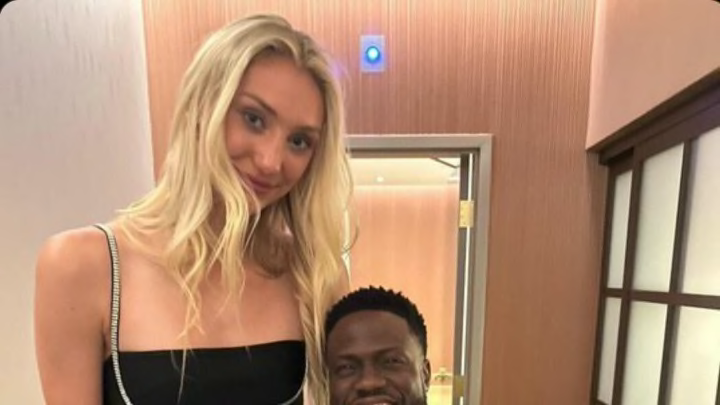 Kevin Hart stands 5-foot-2, which is one inch shorter than Muggsy Bogues, the tiniest player to every don an NBA uniform. The funnyman has a half-decent game himself and always has, ashis days as a high school hooper prove. But he would have some trouble with some of the modern game's post players, who would simply back him down and bank in one of those fundamentally sound little layups older brothers have been using to destroy their younger siblings since Dr. James Naismith conceived of hanging a peach basket 10 feet from the ground.
No one denies this after seeing him standing next to 6-foot-4 Stanford forward Camerson Brink, one of the PAC-12's most productive players. She looks like Aaron Judge to Hart's Jose Altuve as they put a bold new twist on the timeless classic of someone tall towering over someone much, much shorter.
The 21-year-old Brink is entering her senior season of college and is already an NCAA champion, two-time All-American, Defensive Player of the Year, and Pac-12 Co-Player of the Year. Hart was in Ride Along.
It still might be a more advantageous matchup for the comedian than Joel Embiid, previously captured in Hart's vicinity.
Next up? Hopefully a summit with Victor Wembanyama — if he can get through security.