Kevin Durant Ejected For Elbowing Kelly Olynyk in the Head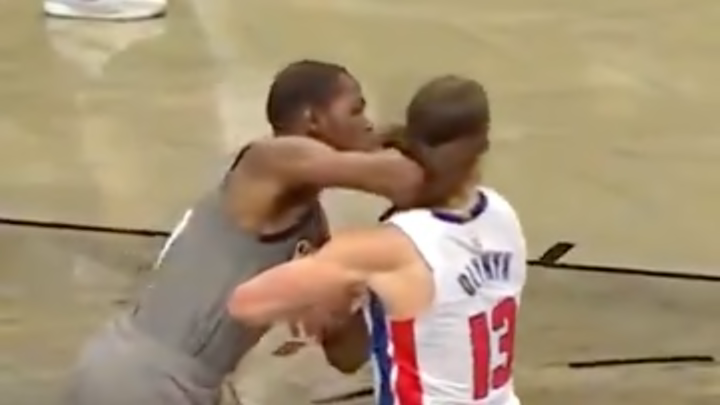 Kevin Durant elbowing Kelly Olynyk. /
The Brooklyn Nets blew out the Detroit Pistons on Sunday night. Kevin Durant scored 23 points on 10 of 13 shooting before he was ejected during the third quarer for excessive contact to Kelly Olynyk's head.
Durant was fighting through a pick and let his frustration get the best of him as he hit Olynyk in the head with a forewarm / elbow and then shoved him. After review officials handed him a flagrant-2 foul, which did not make Durant mad. In fact, he thought it was funny as you can see by his reaciton.
It's unclear if these two have a past, but there's certainly no rivalry between these two franchises these days so it was probably just a heat of the moment thing. However, it is probably worth keeping an eye on their next meeting on Friday night. We might be in for a classic Kelly Olynyk revenge game.