Kendrick Perkins: Celtics Completing 3-0 Comeback Would Mean Nothing to Boston Without Championship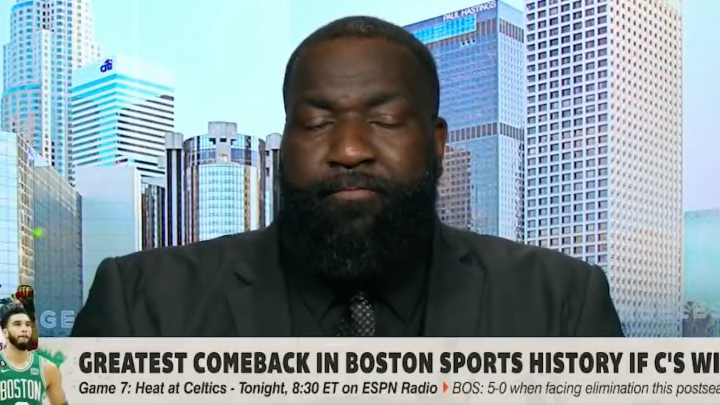 Kendrick Perkins /
On Monday night the Boston Celtics will attempt to go where no team has before and win Game 7 to complete a 3-0 playoff series comeback. The Miami Heat will be doing everything they can to avoid the infamy that would come with being the first team to blow such a series lead. And there's the whole NBA Finals thing that awaits the victor. A lot at stake, to say the least.
After the way they won Game 6 there's been a lot of chatter about what it would mean for the Celtics to pull this off. It is the more interesting angle, anyway. We all know how the Heat will feel if they win-- intense, overwhelming relief that they weren't the team to blow a 3-0 lead. But there's a lot of room for takes when discussing what will happen if Boston wins.
Kendrick Perkins settled in and fired away on First Take this morning, proclaiming a Game 7 win would mean absolutely nothing to the city of Boston if a championship did not follow.
Boston fans and their high expectations are a pretty tired trope at this point but Perkins isn't off the mark. The fanbase has been so spoiled that anything less than another championship parade will be declared a disappointment by the loudest voices, no matter the context.
However, Perkins is wrong. Modern Boston only celebrates champions but the city has a history of embracing the teams who tried their best but came up short in postseason play. Carlton Fisk is still a folk hero even if the Red Sox lost Game 7 after his walkoff in extras in Game 6. Bill Parcells dragging the Patriots out of the darkness to a Super Bowl appearance is still considered a remarkable feat even if they got hosed in that Super Bowl and would go on to great success. Epic playoff runs, like that of Isaiah Thomas only a few years ago or Zdeno Chara playing with his jaw wired shut in the Stanley Cup Finals, are remembered forever.
It is fair to say that completing a 3-0 comeback as the two-seed would not rank among the Celtics' greatest achievements in franchise history. That does not mean it won't be remembered forever, celebrated nearly to the level of a proper championship. It is an epic task the team will undertake tonight, and whatever happens, the city will remember.