Karl-Anthony Towns Nearly Elbowed an Official In the Face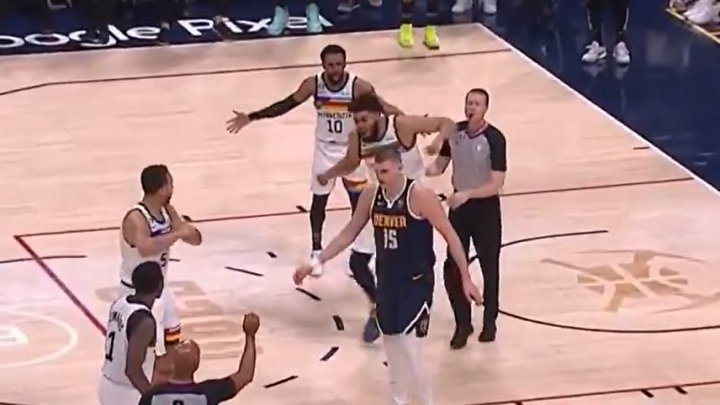 The Denver Nuggets beat the Minnesota Timberwolves 122-113 Wednesday night to take a commanding 2-0 lead in their first round playoff series. While the Nuggets toughed out a win, one of the most notable moments featured Timberwolves star Karl-Anthony Towns nearly decapitating an official.
With the Nuggets up 101-99 midway through the fourth quarter, Nuggets center Nikola Jokic tried to get position in the post and his elbow came up and caught Towns as the whistle blew. As Towns attempted to demonstrate that Jokic had elbowed him, he cocked his left arm back and almost nailed official Ed Malloy in the face.
Check this out:
Look how close he came:
While Malloy certainly would have been injured, that would have been the most memorable moment of the 2023 NBA postseason. I mean, wow. He almost clocked him. That's a UFC-worthy elbow from a 7-footer. Malloy would have been out before he hit the court.