Vikings Screwed By Justin Jefferson Fumble and the Worst Rule in Football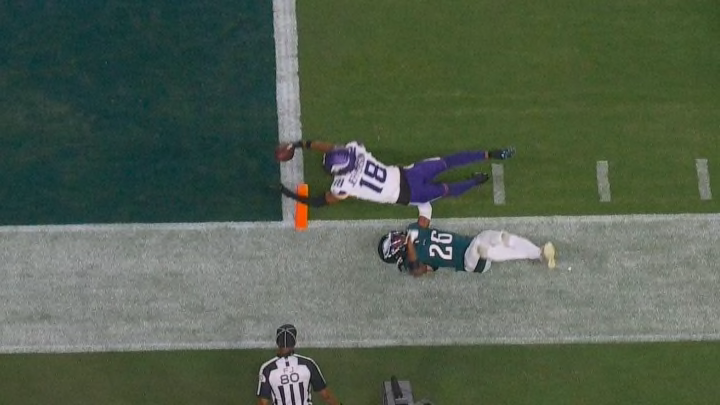 The Philadelphia Eagles took a 13-7 lead into halftime of the first official Thursday Night Football matchup of the NFL season. Jake Elliott kicked a 61-yard field goal as time expired before the break, but he never would have had a chance if not for a Justin Jefferson fumble near the end zone that resulted in a turnover with 41-seconds remaining in the half.
Jefferson caught a pass from Kirk Cousins at the 5-yard line, but while reaching for the end zone he was hit by Terrell Edmunds and fumbled the ball on his way to the pylon. Jefferson lost the ball and it appeared to go over the pylon, which by rule is a fumble into the end zone and a touchback for the defense.
This was basically a 10-point turnaround.
And people f-ing hate that rule. The consensus on Twitter seemed to be that this is the worst rule in football, but there's a reason it exists. I don't know it off the top of my head, but it was because of someone maybe intentionally rolled the ball forward once like 40 years ago and now we have this. I don't know. Ask your local pro football historian. In the meantime, enjoy another slightly controversial primetime call.