Justin FIelds Jumps Over Micah Parsons, Gives Up Touchdown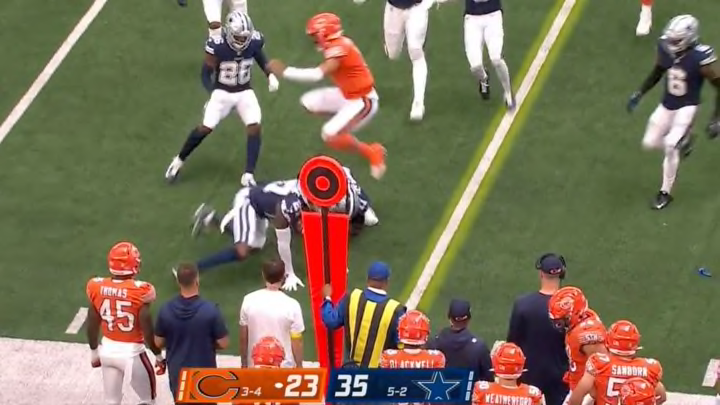 There goes Justin Fields /
The Chicago Bears managed to withstand an early onslaught by the Dallas Cowboys on Sunday afternoon and stayed in the game well into the third quarter. That was a surprise to everyone after Dak Prescott led his offense to four first-half scores. However, Justin Fields screwed up in a big way with his team down 12 and it might've sealed Chicago's fate.
Fields was facing a third and long with five minutes to go in the third quarter and dumped the ball off to David Montgomery. Montgomery fumbled the rock and it bounced rapidly away. Micah Parsons appeared out of nowhere to leap on it, and Fields was right behind him. But instead of touching Parsons while he was on the ground, Fields broad jumped over the All-Pro linebacker like the play was over.
Folks, the play was not over. Parsons realized he never got touched and hopped back up, rumbling into the end zone for yet another Dallas touchdown. It put the Cowboys up 42-23.
A bad time to have a brain fart. In Fields' defense it was an unusual play but it was a lot more work to jump over Parsons than just touching him and standing there.
A tough blow for Chicago's hopes at an upset.