Joe Buck Stuck His Hand Out, So Josh Harris Shook It
Josh Harris and Joe Buck share awkward handshake on Monday Night Football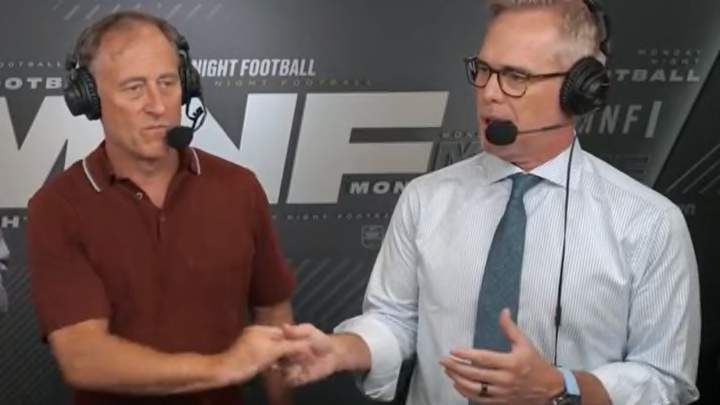 It's the dawn of a new era in our nation's capital as Daniel Snyder is out and Josh Harris is in as owner of the Washington Commanders. The newish boss hopped into ESPN's Monday Night Football booth during his team's preseason game against the Baltimore Ravens. He looked very cool in a burgundy polo shirt and things were going fine until Joe Buck stuck his hands out a bit while asking a question, which Harris read as an invitation for a handshake, leading to whatever the hell this was.
Now. Let the first person who has never been in a similar awkward situation cast the first stone. When you see someone's hand like that it's almost Pavlovian to try to shake it because if you wait too long it can be perceived as a slight. That said, one rarely sees a mid-interview shake so we should savor it.
If anything this just makes Harris come off as relatable so everyone involved should probably just steer into it. Including Troy Aikman, whose reaction to the moment was both pure and delightful. But, like a pro, he just moved that train down the tracks. Probably why it's such an esteemed booth. Not even something like this can put a dent in the infrastructure.
It'd be great if this handshake bit caught on as a celebration should the Commanders get off to a hot 6-2 start. Imagine a bunch of bros in your section doing the Harris-Buck after a pivotal touchdown. It'd be both so dumb and so fun.