Jorge Lopez Accidentally Pours Powerade On His Head, Punches Cooler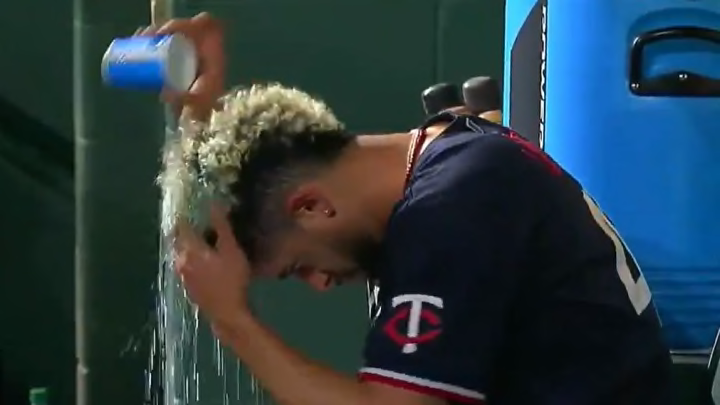 Minnesota Twins reliever Jorge Lopez was not having his best Wednesday night. The 30-year-old entered a game against the Houston Astros in the bottom of the 8th inning with an 8-0 lead. He proceeded to have a terrible outing, then doused himself in the wrong liquid, making things even worse.
Lopez stepped onto the mound and promptly gave up back-to-back home runs to Jake Meyers and Yainer Diaz. Then he walked Mauricio Dubon and hit Jeremy Peña with a 97 mph sinker. He was immediately removed from the game without getting anyone out. His final line: Two hits, two runs, one walk, two home runs allowed on 16 pitches in 0.0 innings.
Back in the dugout, Lopez was clearly upset, he grabbed a water cup, doused his head and rubbed it around in his hair. He quickly realized it wasn't water but what appeared to be Powerade. He realized what he'd done, so he grabbed an actual cup of water, poured it over his head and tried to clean up the mess he'd made. Then, for good measure, he punched the Powerade cooler ... because the plastic container's was somehow at fault.
Here's video:
The only upside here is that he punched the cooler with his non-pitching hand. That's really the only positive from this situation. First lesson for all MLB pitchers: never punch with your pitching hand.