Jonathan Allen Throws Punch at Daron Payne on Washington Football Team Sidelines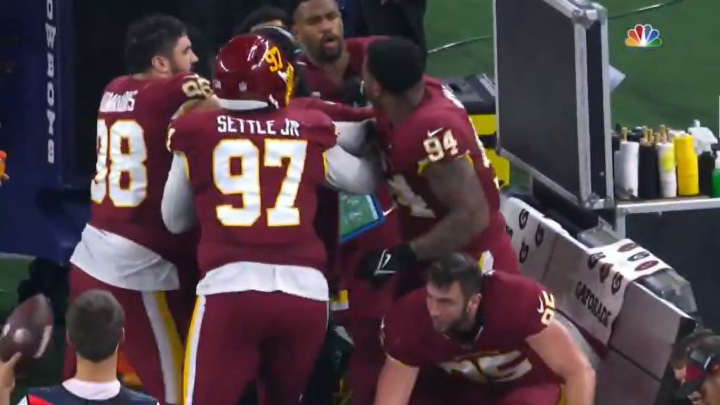 Jonathan Allen and Daron Payne fight on Washington Football Team sidelines /
The Dallas Cowboys are dominating the Washington Football Team Sunday night, with a 28-7 lead midway through the second quarter. That performance is not sitting well on the WFT sidelines. Starting defensive linemen Jonathan Allen and Daron Payne epitomized that.
Allen and Payne got into it on the sidelines, as they nearly started a brawl. Payne put his hand in Allen's face, and Allen took a swing at Payne in return. They had to be separated in what was an embarrassing scene for the team.
Check it out:
Payne was apparently really upset with Allen for some reason and that started the blow up, according to Michele Tafoya.
Allen and Payne play next to each other as the team's starting defensive tackles. They were Washington's first-round picks in consecutive drafts (2017 and 2018) and were teammates at Alabama. Clearly there's a lot of history between the two.
Teammates arguing is a regular occurrence in the NFL, but seeing it devolve into a punch being thrown on a very fancy bench is next level.