John Daly Was Not Drunk During SEC Nation Appearance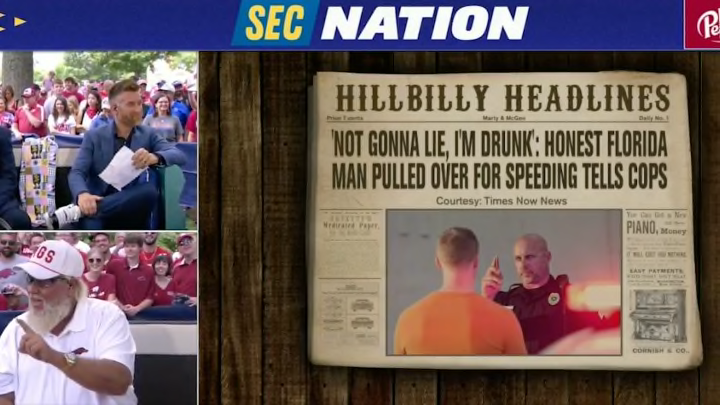 John Daly and Marty Smith on SEC Nation /
To help celebrate Week 1 of the college football season, ESPN tapped John Daly to come on SEC Nation ahead of Arkansas' big matchup with No. 2 ranked Cincinnati. Daly was, as always, very entertaining and made for an excellent guest on a fun pregame show.
There is a clip circulating from Daly's appearance, however, of him saying that he is drunk.
Many could be confused about Daly showing up inebriated to a TV set and then admitting it during the broadcast. But as is often the case, full context reveals things are not quite as they seem. Daly did say "Not gonna lie, I'm drunk," but not as an announcement to the audience. Rather, Daly was participating in an SEC Nation segment titled "Hillbilly Headlines" and was merely reading the headline in question. The show's official Twitter sent out the full segment that should clear up any confusion.
It was an excellent segment and Daly was perfect throughout. He is not, however, drunk.