Joey Votto Starts Reds Comeback By Getting Hit By a Pitch in the Strike Zone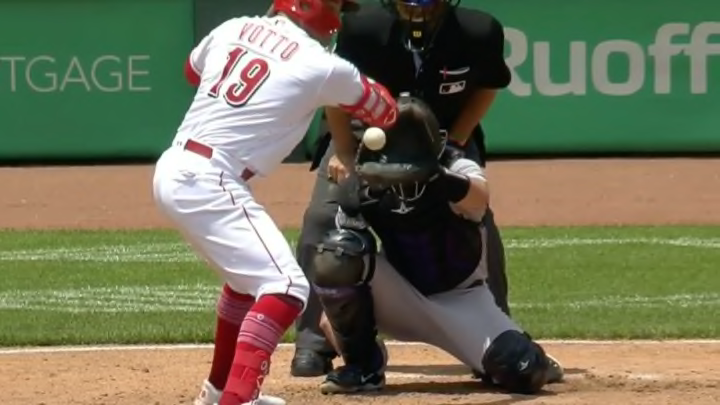 Joey Votto was hit by two pitches in the Cincinnati Reds' 5-3 win over the Colorado Rockies on Wednesday. Jake Bird hit him in the second inning and then Karl Kauffmann hit him to lead off the fifth inning. Votto earned the second HBP as he dipped his heavily protected right elbow into the top corner of the strike zone and was rewarded with first base.
The Reds were down 3-0 at the time and Votto would end up scoring Cincinnati's first run of the game in what turned into a thee-run inning. Votto would strike out looking at three straight pitches in the eighth, but that was after Jake Fraley put the Reds ahead for good with a two-run homer.
The moral of the story? A variety of things can happen to one player throughout a long season.
Sometimes you homer in your first game in 10 months. Sometimes you earn a three-ball walk. Sometimes you start a rally two days later by sheer dumb luck. Either way, the Reds swept the Rockies and have now won 11 games in a row.