Joey Chestnut Manhandles Protestor in Middle of Hot Dog Eating Contest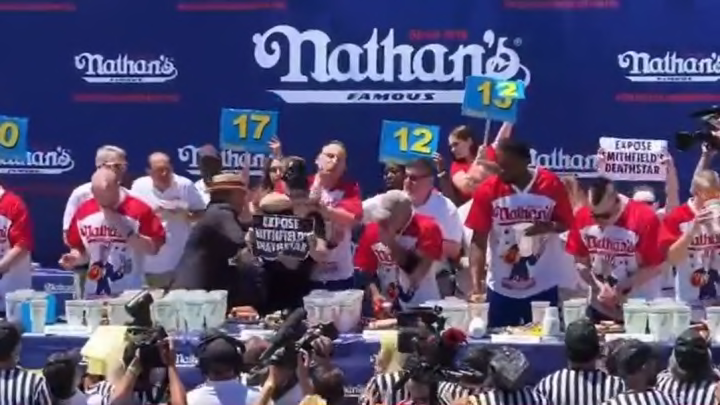 Joey Chestnut was once again dominant in the annual Nathan's Hot Dog eating contest. The champ of all champs slammed down 63 hot dogs and hoisted the mustard belt for a record 15th time. But just because he dominated the competition doesn't mean the event was without controversy. At one point, Chestnut took a moment from swallowing mass amounts of tubed beef to absolutely manhandle a protestor.
Check this out:
The protestor's sign says "expose Smithfield's Death Star." I wish I could tell you what that means but, sorry, I can't.
That's quite the chokehold Chestnut has there, something tells me its not the first time he's ever had to deploy it. The quick reactions and the fact that he wasn't phased and went right back to swallowing dogs is the reason the man is a champion.
All hail Joey Chestnut. The King of July 4.