Joey Chestnut Ate 68 Hot Dogs to Win the 2012 Nathan's Hot Dog Eating Contest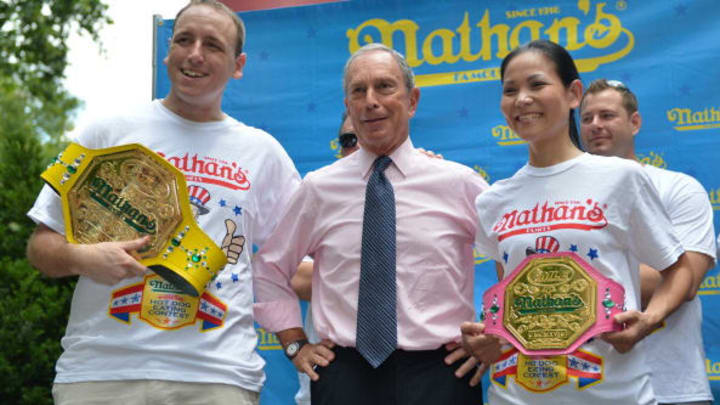 Joey Chestnut won his 6th consecutive Nathan's Hot Dog Eating 
Contest today, tying his previous high of 68 hot dogs eaten in just 10 minutes. Sonya Thomas won the women's competition by eating 45 hot dogs. There, you can now skip ESPN's pointless tape-delay broadcast this afternoon.
Today's "live" ESPN3 broadcast started with a taped segment purporting to be live, showing the end of the women's competition. Yes, they couldn't even go live for the people who sat down at a computer to watch. As if not showing the entire 10 minutes of the women's event while pretending it was live wasn't bad enough. Don't worry though, telling people they're seeing something live is standard practice.
After they showed the end of the women's event, they promoted an upcoming segment where Stephen A. Smith was going to talk about Brooklyn. And then, I turned it off. The Nathan's coverage was always silly, tongue-in-cheek, stupid and fun. Both the event and the coverage. ESPN just couldn't help themselves. Not content to just leave one stupid hour of silly television alone, they had to incorporate one of their screaming jackasses. 2012 was the year that ESPN ruined the Nathan's Hot Dog Eating Contest. Next year Skip Bayless will be there live to debate whether or not Joey Chestnut is truly "clutch." No thanks.