Joe Biden Takes Slo-Mo Fall Off Bike, Jumps Right Back Up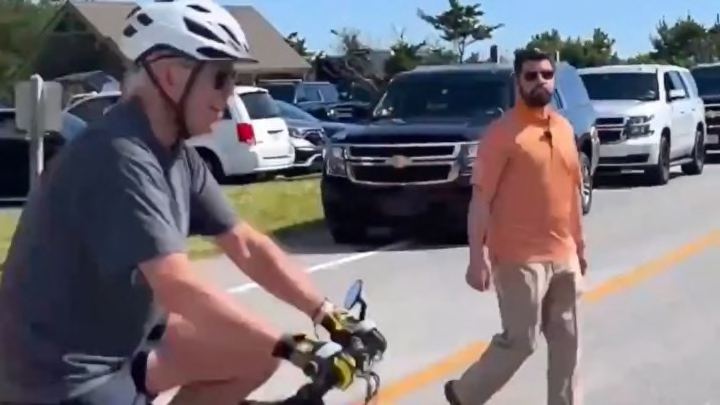 Photos taken moments before disaster /
Joe Biden decided to go for a bike ride in Rehoboth, Delaware on Saturday morning and was accompanied by the usual grouping of Secret Security personnel and members of the press. This means all of those people had a front-row seat to Biden taking a tumble onto the pavement in slow motion before he hopped back up.
Biden crossed a street and slowed to a stop, presumably in order to talk to some of the citizens standing around who'd like to say they got to talk to the President. Before any meeting or greeting got going, Biden just... fell. Anybody who's ever ridden a bike knows exactly how something like this would happen and has very likely found themselves in the same spot before, just without the bonus of cameras watching their every move.
Once Biden got up, he apparently blamed the toe cages on the bike, which makes sense.
This will undoubtedly be used as a talking point for certain members of the public who enjoy pushing certain agendas about Biden's physical wellbeing, but let us all pause for a moment and enjoy the rare sight of a President being just like us by accident.