A Browns Fan Threw a Bottle at Owner Jimmy Haslem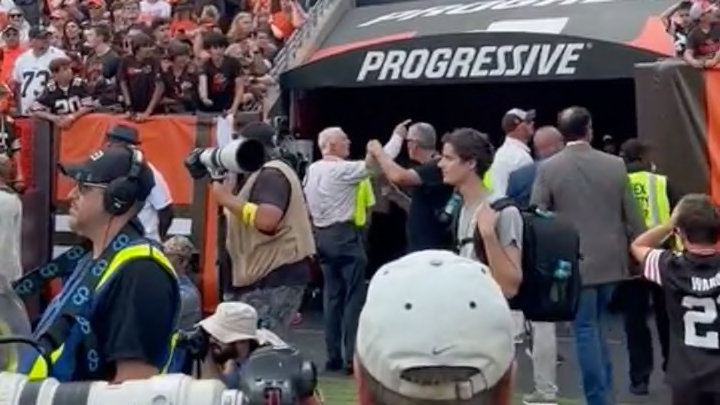 Jimmy Haslem /
The Cleveland Browns suffered a disastrous loss against the New York Jets on Sunday and it is only through the good graces of the Baltimore Ravens that it wasn't immediately labeled the worst loss of the NFL's crazy day. They gave up two touchdowns in the final two minutes to Joe Flacco, of all people, before Jacoby Brissett threw a game-ending interception with the offense close to game-winning field goal range.
It was a brutal way to conclude the team's home opener and fans were extremely displeased. After Flacco hit Garrett Wilson for the go-ahead touchdown with less than a minute to go, Browns owner Jimmy Haslem began to walk off the field and was hit with a bottle apparently thrown by a fan. Tom Pelissero tweeted video out on Tuesday, while noting the organization has identified the offending fan and plans to ban them.
Between this and Kyler Murray getting smacked it seems we're in for another year of fans forgetting how to act at the games they pay to attend.
UPDATE: The fan who threw the bottle has been arrested.