Did Jae Crowder Hurt Jimmy Butler's Knee With a Flagrant Foul?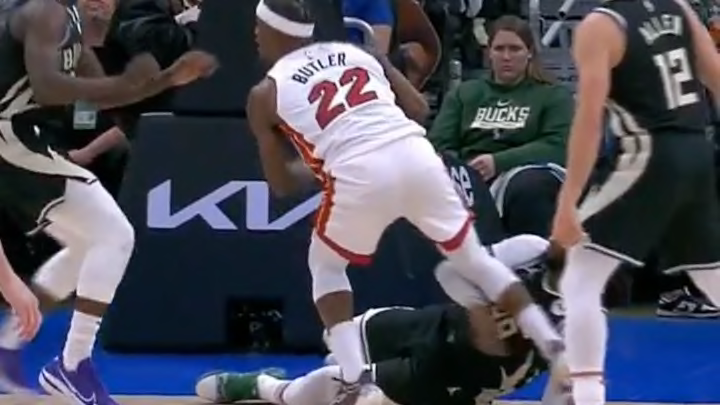 The Milwaukee Bucks remembered they were the No. 1 seed in the Eastern Conference and destroyed the Miami Heat last night in Game 2 even without Giannis Antetokounmpo. Late in the third quarter with a 34-point lead, Bucks forward Jae Crowder found himself on the floor and with access to Jimmy Butler's legs, so he did what everyone in the NBA has been doing lately and grabbed them.
It was not a basketball play and was therefore punished with a flagrant foul. Butler was somehow able to control himself and not stomp on Crowder's chest, saving us all another disastrous news cycle on the heels of the Draymond Green-Domantas Sabonis situation.
Or perhaps not because later in the game cameras captured the coffee enthusiast grabbing at his knee over on the Heat bench.
Butler is one of the tougher players in the league and it's going to take hell and high water to keep him off the floor. But it's not great that we're potentially having series swung by extracurricular plays that would result in words and potentially action even in the chillest pickup games.
On the other hand, these are juicy storylines. Unless it's your player whose injured.