Jim Nantz 'Hello Friends' Houston T-Shirt is Legendary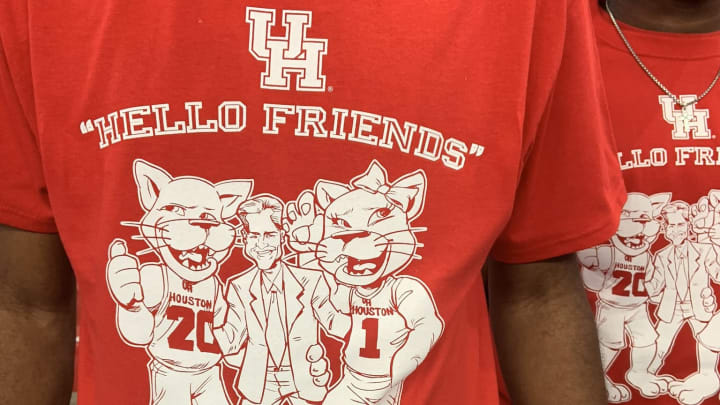 There's nothing quite like turning on CBS in early April and hearing the pastoral voice of Jim Nantz welcoming you to Augusta National with his traditional "hello friends" opening line. It's familiar, it's memorable and it makes you feel like home.
Well, Nantz had his own homecoming of sorts today, going to his alma mater, Houston, to call its game against Memphis. Not only did Nantz get to see his team win, but at least two fans were spotted with shirts featuring Nantz's trademark phrase along with a caricature of Nantz and the Houston mascots.
Nantz had a successful return to Houston, not only seeing his Cougars win, but also taking in the campus.
Nantz roomed with pro golfer Fred Couples while at Houston, but at this point Nantz might be more famous than the former Masters champion. Honestly, I don't think Couples would get a shirt if he returned to Houston. Meanwhile Nantz not only got the t-shirt but a standing ovation from the students. A true hero's welcome for a man who has welcomed us all into so many amazing moments with his trademark call.