Jim Harbaugh's Dad Couldn't Believe Michigan Didn't Call a Timeout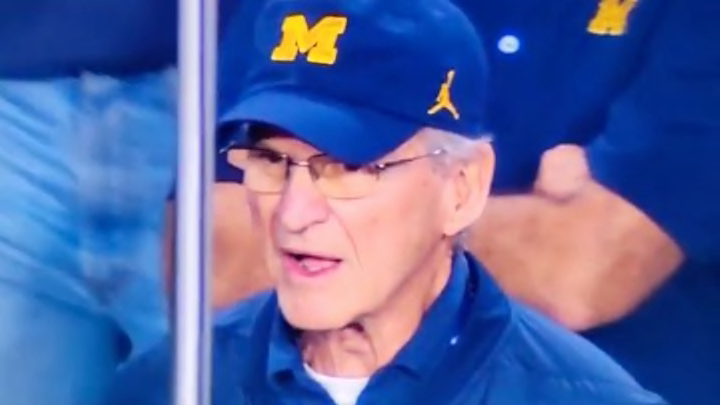 There are a lot of reasons Michigan lost to TCU in the College Football Playoff semifinal last night. Jim Harbaugh mismanaging his timeouts during the stretch as his Wolverines tried to get the ball back is not one of them. Despite the rare occurrence of a coach's dad getting some screen time openly questioning what his kid is doing. Here's Jack Harbaugh trying to work out what was happening in real time after the Horned Frogs picked up a first down late in regulation and Jim opted to let the clock run.
I happened to be watching the game with a bunch of aggrieved Michigan fans so I can report that there were more than a few wondering the same thing. Most coaches would have started using the three stoppages right away, but using them after first, second, and third down left Harbaugh and the Wolverines in the exact same spot as they would have been with more immediate action.
The takeaway here is that we need more real-time footage of important people's dads second-guessing their kids' decisions. Really make the next family gathering a bit awkward.
Again, this didn't hurt Michigan like the goal-line calls that led to zero points on two possessions inside the five. And it certainly didn't hurt them like the two pick-sixes.