Latest NFL Leads
Jim Harbaugh's Defensive Coordinator Leaving to Coach With His Brother Certainly Isn't Going to Slow NFL Rumors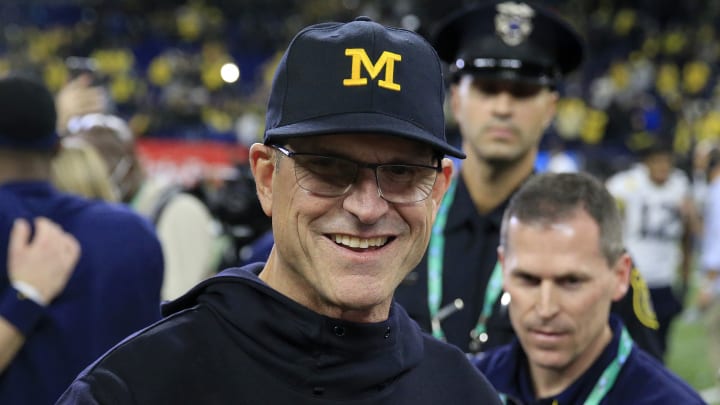 Justin Casterline/GettyImages
Jim Harbaugh plays things close to the vest, therefore we aren't privy to the best information regarding what he'll do with his coaching future. After a breakout and cathartic year at Michigan, the NFL speculation has quickened. The hottest name on the sideline carousel is still actively recruiting in-between sets at the squat rack and there's been little in the way of concrete evidence of mutual flirting at the professional level. In that vacuum, the content cycle is reliant on tea leaves.
And a major one just broke free of the branch this afternoon as multiple reports have Wolverines defensive coordinator Mike Macdonald departing to take the same position with the Baltimore Ravens. This would be a marking post if Macdonald was leaving for any of the professional franchises. It's even more noteworthy because this happens to be the one coached by John Harbaugh, under whom Macdonald worked from 2014-2020.
One would imagine there was a conversation between the Harbaugh brothers while this was all hammered out. It's possible there wasn't but that doesn't seem entirely likely. It's also possible that nothing about this move has anything to do with Jim's future. From an outsider's perspective it would seem that losing a vital cog to a dominant defense would be an obstacle to overcome. Which would lead some to guess that it's not an obstacle the Michigan Man intends to tackle.
Time will tell if this is anything. For prisoners of the moment it certainly has the shape of something. If the swirl of intrigue was slowing down a bit, it's now back up to speed as we wait and watch for future clues.